Don't Panic Over Expiration of Fed-wide Forms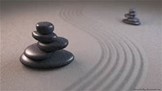 As many of you know, NIH's application packages are made up of both agency-specific and federal-wide forms. We just got through updating all of our agency-specific ("PHS") forms, which expired in August 2015, to FORMS-D. Now we need to deal with the forms used federal-wide which are on a different clearance schedule. The forms in our FORMS-D application packages labeled "R&R" or "Research & Related" expired on June 30, 2016 and the Project/Performance Site Location form is due to expire on September 30th (NOT-OD-16-120).

It's definitely a bummer, but there is no need to panic. We knew going into our FORMS-D update that these additional forms would be expiring. Updating the federal-wide forms should have little impact to most applicants. We don't expect the changes to the forms to be significant enough for us to worry about having old and new form versions reviewed together. It certainly won't be the crazy effort we all put into the FORMS-C to FORMS-D transition. It's more of a "FORMS-D1" situation with all the FORMS-D series application packages living together in harmony.

Our Grants.gov colleagues are working with the Office of Management and Budget on the federal-wide form clearance and we don't expect any changes (except a new expiration date) for most of the forms. Of the forms scheduled to change, only the SBIR/STTR Information form is expected to have significant enough changes to potentially warrant application package reposting for our small business opportunities (and even that can't be confirmed until Grants.gov delivers the new forms to agencies).

For now, keep using the forms we post with our funding opportunity announcements (ignoring any old expiration dates on the forms). After we get the updated federal-wide forms from Grants.gov, we'll let you know if there is anything you need to do differently.
Fellowship Applicants Get Their Feet Wet with FORMS-D

August 8th will be our first standard due date for Fellowship applicants using FORMS-D application packages. There were quite a few changes to the PHS Fellowship Supplemental Form between FORMS-C and FORMS-D (see the Significant Changes section [F.120] of the Fellowship Instructions for NIH and Other PHS Agencies Application Guide for details).


If you are planning to submit to the August 8th due date, hopefully, you are already well on your way to completing your application. Among the changes are the addition of several new attachments:
Applicant's Background and Goals for Fellowship Training (6 page limit) · Letters of Support from Collaborators, Contributors, and Consultants (6 page limit) · Description of Institutional Environment and Commitment to Training (2 page limit; includes Additional Education Information section required for F30 and F31 applications which was previously included as an "Other Attachment" in FORMS-C applications) · Data Safety Monitoring Plan (used with applications involving Clinical Trials) ·
Authentication of Key Biological and/or Chemical Resources (use of this attachment has been delayed - NOT-OD-16-034; don't use it yet)
Before submitting, reread the instructions for each of these attachments and make sure you have provided all the needed information. We've also consolidated our biosketch instructions used for research, career development and fellowship applicants. Read the entire set of biosketch instructions carefully, paying special attention to section "D: Additional Information: Research Support and/or Scholastic Performance". Applicants for predoctoral and postdoctoral fellowships should use this section to provide information on their scholastic performance (instead of Research Support).

Of course, the application guide has all the nitty-gritty details you need to succeed, but you might also find the Annotated Form Set for NIH Grant Applications to be a handy resource for your last pre-submission check.
Helping You Stay on Top of Your SAM Registration Renewal

Your System for Award Management (SAM) REGISTRATION MUST BE ACTIVE AT TIME OF SUBMISSION! I just used SHOUTY CAPS and bold letters and an exclamation point – clues to please, please, please pay attention. Unlike the other required registrations for grant application submission (DUNS, Grants.gov, eRA Commons, etc.), your electronic business point of contact designated when your organization registered in SAM must complete an annual renewal to keep your SAM credentials active (see SAMs Quick Start Guide for Updating/Renewing an Entity). It can take two or more business days to complete the renewal process and have your status updated in Grants.gov. If you don't find out until the application due date, you are unlikely to successfully submit on-time. Expired registration is not a valid reason for a late application.

We can't get rid of the federal-wide SAM requirement (sorry, we really wish we could), but we can help provide greater visibility to your SAM registration status.

We've added your SAM registration expiration date to the Institutional Profile information displayed in eRA Commons.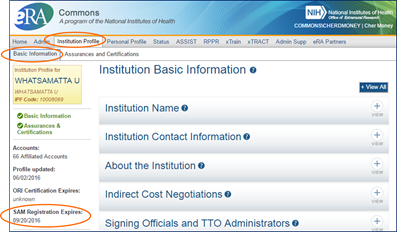 We have also added your SAM registration expiration date to the initiation screen in ASSIST with a button for additional details like the name of your point of contact and their email address.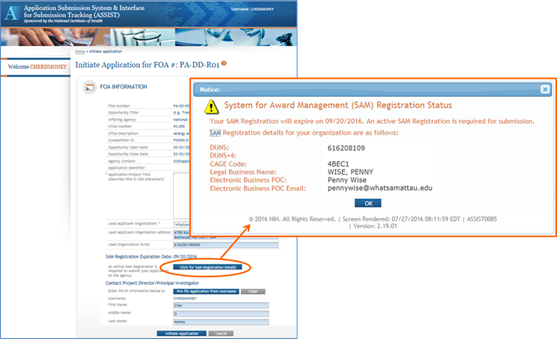 In case you miss the passive displays, we added a warning message that will trigger if your SAM registration is due to expire within 14 days. The warning is visible when you use the Validate Application action in ASSIST and also in the list of errors/warnings in eRA Commons upon submission through Grants.gov. You still need to validate your application or submit days in advance of the due date in order to have time to take action, but at least it is visible in a location you are less likely to miss.
Tip for administrators: If you don't want your folks to see this warning, you may want to work with your SAM point of contact to have them renew your SAM registration more than 2 weeks prior to expiration. SAM starts notifying the SAM point of contact 60 days from expiration, so they have about 6 weeks to take action before we start triggering the warning.

During a large NIH deadline, it is not uncommon for at least one applicant to fail to complete the submission process due to inactive SAM credentials. All that work…writing and rewriting attachments…pulling together all your application forms…going through all the internal reviews and approvals…and submitting…just to get a hard-stop error from Grants.gov indicating your registration has expired and your application cannot be accepted or passed on to NIH. Even one applicant experiencing this frustration is one too many! Hopefully, these steps will help you avoid it.

ASSIST Use Growing

More and more of you are picking ASSIST as your submission method of choice. ASSIST is NIH's web-based service for the preparation, submission, and tracking of grant applications. Although use of ASSIST is not required, it offers many benefits over Grants.gov's downloadable Adobe forms including the ability to validate your application against NIH business rules and preview your application in the NIH format prior to submission.

As we anticipated, applicants with system-to-system (S2S) solutions have continued to use them. Many of those users already benefit from similar validation and image features. In addition, S2S solutions often integrate with other institutional systems to reduce data entry by pulling and pushing application data to and from internal databases.

The ASSIST numbers are pretty amazing, especially considering ASSIST didn't support R01 applications until the end of April 2015 and we completed our support for all remaining NIH grant programs just six months ago. If you currently use Grants.gov's downloadable forms, check with your administrative office to see if ASSIST is an option for you.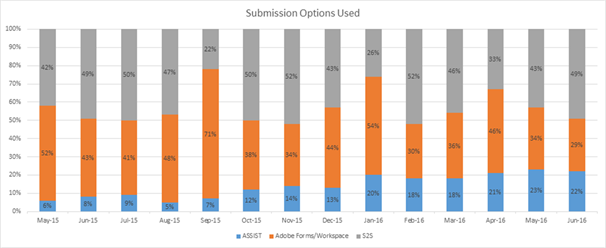 Nearly Random Thought

Am I the only one completely jealous of this dog right now? Hope you all are managing to stay cool.
Take care,
Sheri
Sheri Cummins
Communications & Outreach
NIH Office of Extramural Research
cumminss@mail.nih.gov

We are sorry if you receive duplicates. This notification was sent to multiple distribution lists. To subscribe to or unsubscribe from our listservs, please visit http://era.nih.gov/about_era/get_connected.cfm.