You are here
New Human Subjects and Clinical Trial Information Form
Learn about the new Human Subjects and Clinical Trial Information form which will be included in grant application packages and contract for all human subjects and/or clinical trial research applications beginning for January 25, 2018 due dates.
Purpose
A primary component of NIH's initiative to enhance the stewardship of clinical trials is the creation of a new application form that consolidates all Human Subjects and Clinical Trial related information into one place, and also expands the information required for studies that meet the NIH definition of a clinical trial. This new form will be included in the new FORMS-E Application Packages and will be required for all applications with due dates on or after January 25, 2018.
Key Dates
September 25, 2017 – New FORMS-E Application Instructions available on the How to Apply - Application Guide website

October 25, 2017 - FORMS-E Application Packages will start being published for FOAs with due dates on or after January 25, 2018.

Note that all new application packages will be published at least 60 days ahead of the first due dates

January 25, 2018 – First due dates for new FORMS-E Application Packages
During the transition period from FORMS-D to FORMS-E, both form packages will be available for some FOAs. It is important that applicants pay close attention and choose the announcement specific for their due date.
Form Changes
The most significant change with the new FORMS-E Application Package is the addition of a new PHS Human Subjects and Clinical Trials Information form. This form consolidates human subjects, inclusion enrollment, and clinical trial information previously collected across multiple agency forms. The form collects information on human subjects and clinical trials at the study level.
Leads applicants through the human subject and clinical trial information collection requirements
Expands the use of discrete form fields to capture clinical trial information to provide the level of detail needed for peer review
Presents key information to reviewers and agency staff in a consistent format
Aligns with ClinicalTrials.gov (where possible) and positions the NIH for future data exchange with ClinicalTrials.gov
Resources
Take a video tour of the new form.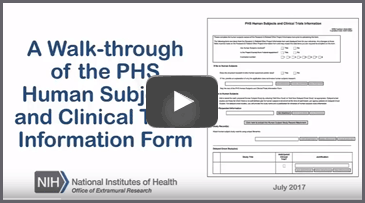 Annotated Form Set for NIH Grant Applications - FORMS-E Series

High Level Summary of Form Changes: FORMS-E to learn about other form changes.

Notices
NOT-OD-17-062 New NIH "FORMS-E" Grant Application Forms and Instructions
This page last updated on July 26, 2017