The PHS Human Subjects and Clinical Trials Information Form is used to collect information on:
human subjects research
clinical research and/or clinical trials
study population characteristics
protection and monitoring plans
protocol synopsis
Purpose
The PHS Human Subjects and Clinical Trial Form consolidates human subjects, inclusion enrollment, and clinical trial information into one place.
The form:
Lead applicants through the human subject and clinical trial information collection requirements
Expands the use of discrete form fields to capture clinical trial information to provide the level of detail needed for peer review
Presents key information to reviewers and agency staff in a consistent format
Aligns with ClinicalTrials.gov (where possible) and allows data exchange with ClinicalTrials.gov
Where to Find the Form
There is NOT a universal form set available for download that can be used to submit a grant application to NIH. All application forms must be accessed, prepared, and submitted by one of the following submission options:
See our page on Finding Forms for more helpful information.

A PDF version of the Human Subjects and Clinical Trial information form is available on the Grants.gov forms repository

, but the PDF versions CANNOT be used for submission to NIH. Screenshots of individual forms are available within the Application Instructions.​
What to Include in the Form
Take a video tour of the form.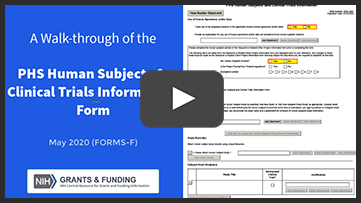 Update: The information in this video also applies to the FORMS-G and H version of form used for due dates on/after Jan. 25, 2022. See FORMS-G Significant Changes or FORM-H Significant Changes.
Use our Annotated Form Sets for quick reference
Follow all Application Instructions carefully

Related Notices