Check Out the Redesigned NIH Grants and Funding Site!
We have dramatically simplified Grants.nih.gov to help you find and understand the information you need more easily. A LOT has changed. You may want to familiarize yourself with the site by poking around or taking a video tour so you know where to look when you need to find information quickly. Here's a taste of what's new:
Interface for the NIH Guide to Grants and Contracts
How to apply/application guide information
Grants process overview
Forms library
Presentation of policy information
and more…
If something doesn't work as expected or if you can't find information that used to be there, let us know by emailing the OER Webmaster.
FORMS-D Application Instructions Now Available – View the Transformation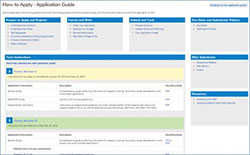 Not only has our website changed, so has our whole approach to delivering application instructions. View the video overview to learn about the new filtered views of the instructions for the various grant programs, and how the HTML version of the general guide has been organized.
We'd love your feedback on the application guide, too!
FORMS-D Application Packages Now Available for Some FOAs

We are adding FORMS-D application packages approximately 60 days ahead of due dates that are May 25 and beyond, so you will start seeing them now. We are still working on the new parent announcements, but you'll start seeing them in the coming weeks.
Remember…
You MUST use FORMS-D application packages for due dates on or after May 25, 2016.
You MUST use FORMS-C application packages for due dates on or before May 24, 2016.
If you're not sure how to tell the difference between FORMS-C and D, check out Do I Have the Right Electronic Forms for My Application?
Dog Tired
Well, as you can see from the above, we've been pretty busy around here and we are all dog tired. The weekend just can't get here soon enough! Hope you all have a good one.
Take care,
Sheri
Sheri Cummins
Communications & Outreach
NIH Office of Extramural Research
cumminss@mail.nih.gov