Open your Commons Account. Click on the "Personal Profile" tab, scroll down to "Reviewer Information", and click on the "VIEW" icon to expand this section. There are two Continuous Submission sections: the top one is for appointed members of NIH Study Sections, National Advisory Councils/Boards, Board of Scientific Councilors, and Policy Advisory Committees. Most people know if they are an appointed member of such a group; clicking on this link will show you the dates of your current appointment.
The other section is "Eligibility for Continuous Submission based on recent substantial service": this is where you check to see if you have participated in enough qualifying NIH review meetings to become eligible for Continuous Submission based on "recent substantial service" (6 qualifying NIH review meetings in an 18 month period ending June 30 of each year).
When you click on "Show Eligibility Status", you should see something like this: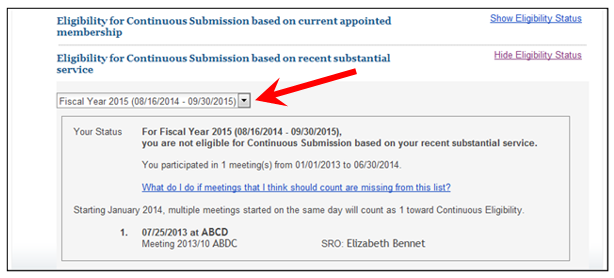 Choose the appropriate fiscal year from the drop-down list (see table below). For example, "Fiscal Year 2016 (eligible from 8/1/2016 – 9/30/2017)", will show all of your NIH review meetings between 1/1/2015 – 6/30/2016. The screen displays whether you are/will be eligible in that Fiscal Year and the number of meetings on the list that count towards "recent substantial service". Note - not all meetings count towards continuous submission eligibility - multiple meetings starting on the same date only count as one meeting. For more information, please go to the Continuous Submissions website.
| | | |
| --- | --- | --- |
| Fiscal Year | 18-Month window for qualifying meetings | Term of Eligibility |
| 2017 | 1/1/2015 - 6/30/2016 | 8/1/2016 - 9/30/2017 |
| 2018 | 1/1/2016 - 6/30/2017 | 8/1/2017 - 9/30/2018 |
| 2019 | 1/1/2017 - 6/30/2018 | 8/1/2018 - 9/30/2019 |
| 2020 | 1/1/2018 - 6/30/2019 | 8/1/2019 - 9/30/2020 |