Where can I find the forms I need to apply?
Each funding opportunity has its own unique set of application forms. Once you have identified a
funding opportunity
of interest, y
ou must use one of these
submission options
to access, prepare and submit the forms needed to apply.
Institutional Solutions (System-to-System, S2S)
Grants.gov Workspace (not available for complex, multi-project applications)
Check with your administrative officials before choosing how you will submit.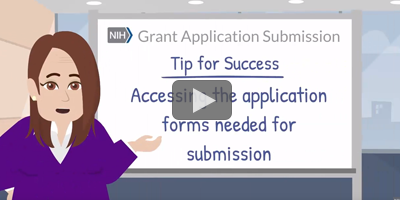 Note: There is NOT a universal form set available for download that can be used to submit a grant application to NIH. PDF versions of individual forms can be found on the Grants.gov forms repository, but CANNOT be used for submission to NIH. Only forms prepared and submitted through one of the above submission options will be accepted.