Your All Access Conference Pass provides you with a very unique and valuable opportunity throughout the year in the NIH Virtual Exhibit Hall. Open 24/7, we invite you to explore four separate "rooms" with 45 NIH booths, filled with documents, helpful links, videos, program information, and contacts. You'll find all of our funding Institutes and Centers, as well as special program and topic-focused booths. The best part…you can save these resources to your personal "swag bag" and email them to yourself!
During the Pre-Con Events, be sure to stop by the Event Support Desk to get logistics questions and future event questions answered. Although the additional booths will not be staffed, the resources are available to view and download.
During the 2-Day NIH Grants Conference, the booths come alive! Many are staffed with grants management, program, review and/or policy experts who are ready to chat with you. The booths will be THE place to stop to browse resources and get answers. For a more personal experience, make sure to make a 20-minute 1:1 Appointment with one or more of our experts. More information will be provided later in 2022.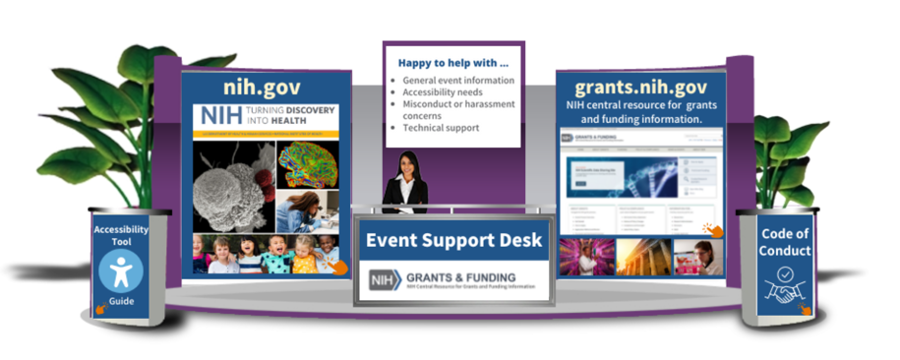 | | |
| --- | --- |
| Event Support Desk | Ask an NIH Grants Policy Expert |
| Ask an NIH Other Transactions Authorities Expert | Ask about Data & Resource Sharing |
| Ask an NIH Training Officer | Ask an NIH Program Officer |
| Ask an NIH Grants Management Officer | Ask an NIH Scientific Review Officer |
| See Something, Say Something! | NIH eRA |
| | |
| --- | --- |
| NIH Office of AIDS Research | NIH Office of Laboratory Animal Welfare |
| NIH Office of Research in Women's Health | NIH Small Business education & Entrepreneurial Development |
| NIH HEAL Initiative | NIH Loan Repayment Programs |
| My NCBI | National Research Mentoring Network |
| NIH BRAIN Initiative | NIH Common Fund's High Risk, High-Reward Research Program |
| Human Subjects, Clinical Trials, & Inclusion | |
| | |
| --- | --- |
| CSR | Center for Scientific Review |
| FIC | Fogarty International Center |
| NCATS | National Center for Advancing Translational Sciences |
| NCCIH | National Center for Complementary and Integrative Health |
| NCI | National Cancer Institute |
| NEI | National Eye Institute |
| NHGRI | National Human Genome Research Institute |
| NHLBI | National Heart, Lung and Blood Institute |
| NIA | National Institute on Aging |
| NIAAA | National Institute on Alcohol Abuse and Alcoholism |
| NIAID | National Institute of Allergy and Infectious Diseases |
| NIAMS | National Institute of Arthritis and Musculoskeletal and Skin Diseases |
| NIBIB | National Institute of Biomedical Imaging and Bioengineering |
| NICHD | Eunice Kennedy Shriver National Institute of Child Health and Human Development |
| NIDA | National Institute on Drug Abuse |
| NIDCD | National Institute on Deafness and Other Communication Disorders |
| NIDCR | National Institute of Dental and Craniofacial Research |
| NIDDK | National Institute of Diabetes and Kidney Diseases |
| NIEHS | Institute of Environmental Health Sciences |
| NIGMS | National Institute of General Medical Sciences |
| NIMH | National Institute of Mental Health |
| NIMHD | National Institute on Minority Health and Health Disparities |
| NINDS | National Institute of Neurological Disorders and Stroke |
| NINR | National Institute on Nursing Research |
| NLM | National Institute on Nursing Research |