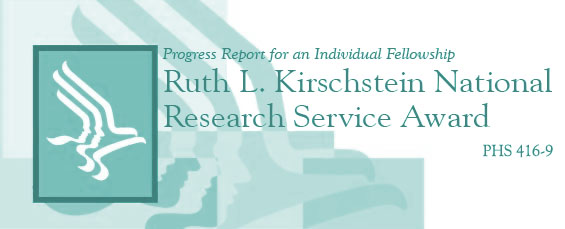 U.S. Department of Health and Human Services
National Institutes of Health and

Ruth L. Kirschstein National Research Service Award
Individual Fellowship Progress Report
for Continuation Support

PHS 416-9 (Revised 8/2012)

- ARCHIVED

All notable changes made to PHS 416-9 are listed at the bottom of this page (Updated 9/17/2012).
---
Downloadable Instructions and Form Files
Some of the MS Word and PDF files are large and may take a few minutes to download.
| PHS 416-9 Instructions | | |
| --- | --- | --- |
| Instructions | MS Word (253 KB) | PDF (128 KB) |
PHS 416-9 Fillable Forms
The links below allow for downloading of individual form files in MS Word and PDF formats. Please see the Adobe Acrobat or PDF Forms section of the "Help Downloading Files" page for information on using the fillable PDF forms.
For Questions Related to:
Application Procedures/Forms Submission: contact GrantsInfo at grantsinfo@nih.gov or 301-945-7573.
Note: Other software packages for completing these applications may be available from other sources; however, it is essential that the type size and format specifications are met. Otherwise, application processing may be delayed, or the application may be returned to the applicant without review.
Disclaimer: Reference to these software packages neither constitutes nor should be inferred to be an endorsement or recommendation of any product, service, or enterprise by the National Institutes of Health, any other agency of the United States Government, or any employee of the United States Government. No warranties are stated or implied.
---
Notable Changes Made to PHS 416-9
New PHS 416-9 (Rev. 08/12) instructions and forms posted 9/17/2012. See the NIH Guide Notice NOT-OD-12-152 for important details regarding changes made to this version. (9/17/2012)
---
Go to NIH Forms and Applications Page