You are here
Welcome to the New NIH Grants and Funding Site!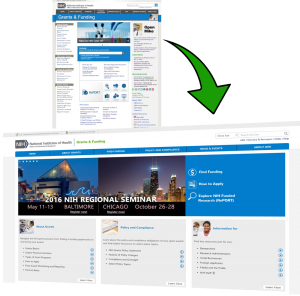 Thank you for visiting our newly redesigned grant and funding site. Using feedback from user surveys, usability reviews, and discussions with people like you, we have reduced clutter, provided more context, improved navigation, and dramatically simplified our pages to help you find the information you need more easily.
This is not simply a facelift. We have made significant changes that we hope will save you time and improve your experience searching for NIH grants information. But we know that change, even if it is change for the better, can be disruptive. Our
short video tours of the new site
and the
new application guide
can help orient you quickly to these new tools.
We have not been able to redesign all the pages on our site, and will continue to work on subpages in the months ahead.
Your feedback can help us choose which pages we need to prioritize and is critical to making sure that we are moving in the right direction. We would love to hear what you like and what still needs work. Feel free to email me directly, use the OER Webmaster link that is on the bottom of every one of our pages, or respond to the user survey.
If you link to our page from yours, not to worry, we have redirects in place. You may also find this
mapping document
of old vs new URLs useful.
Sincerely,
Megan Columbus
Director, Division of Communications and Outreach
NIH Office of Extramural Research
Megan.Columbus@nih.gov
This page last updated on March 24, 2016