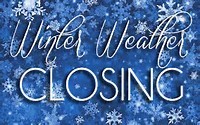 Last Thursday it was in the mid-70s here in Bethesda, Maryland. I painted my toenails, got out my strappy sandals, and looked for any excuse to be outside. That was last week. Now, we are bracing for a massive snow storm and packing our telework bags in anticipation of office closures. Talk about weather whiplash!

Before I head home to check my stock of milk and toilet paper, I wanted to make sure you are all aware of a recent change in our submission policies.
Federal offices are closed – Emergency and telework-ready employees must follow their agency's policies
Open - Early departure
Immediate departure – Federal offices are closed
Shelter-in-place
Although many of us choose to telework in lieu of taking leave when NIH is "closed" for inclement weather, we can't guarantee the same level of service and, as such, decided moving due dates was the best course of action.
During these closures, email is your best bet for communicating with NIH staff. If contacting the eRA Service Desk, take advantage of our
Web Ticketing
.

Take care. Stay warm. Be safe.
Communications & Outreach
NIH Office of Extramural Research